1st Conference of European Academy for Molecular Hydrogen Research in Biomedicine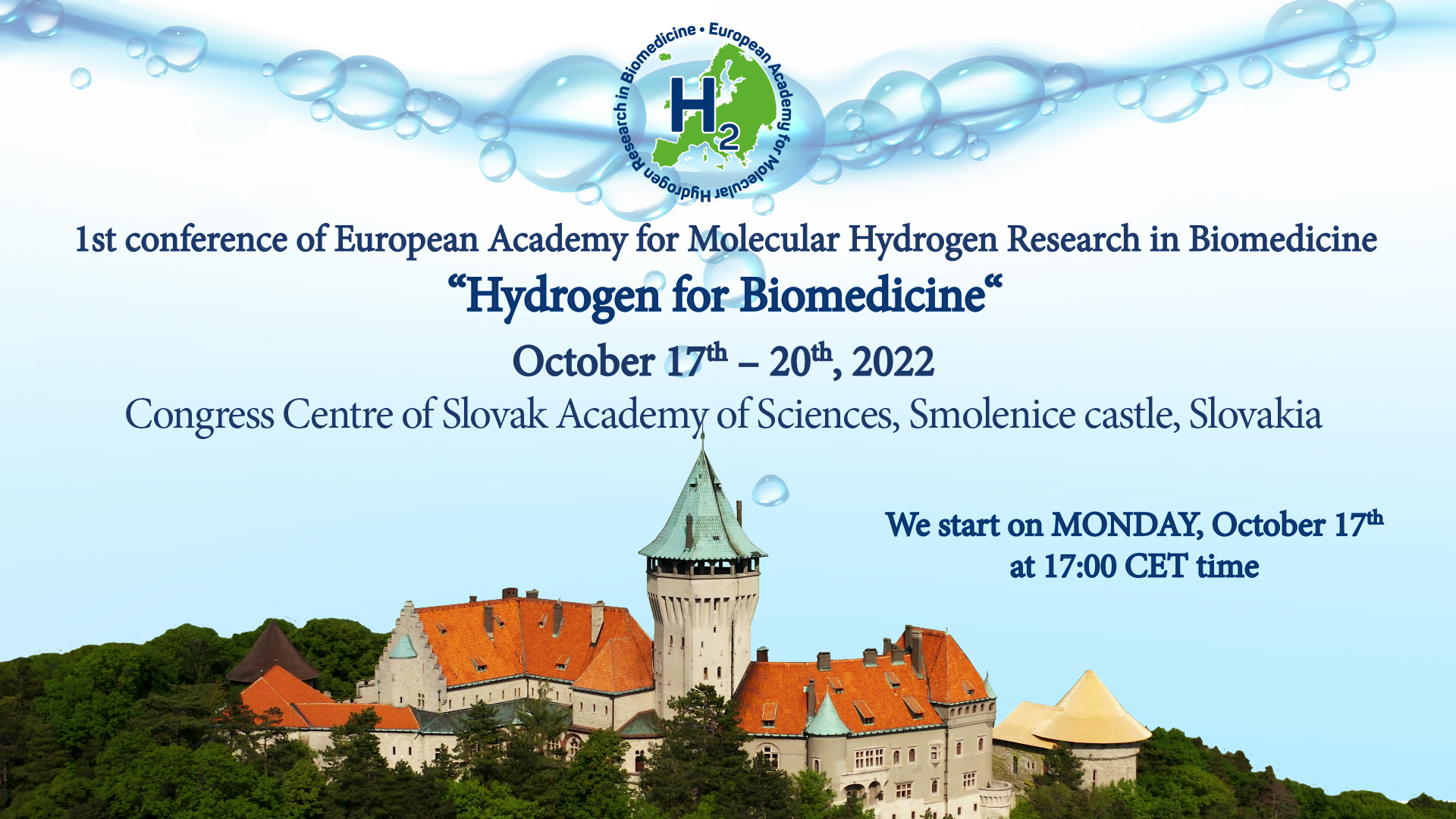 "1st Conference of European Academy for Molecular Hydrogen Research in Biomedicine"
It is our pleasure to inform you that "1st Conference of European Academy for Molecular Hydrogen Research in Biomedicine" will be held on October 17th - 20th, 2022 in Congress Center of Slovak Academy of Science, Smolenice Castle, Slovakia, about 50 km north-east from Bratislava.
The aim of the conference is to gather the leading representatives and top scientists, doctors, molecular biologists and representatives of top scientific institutes and clinics engaged in research and therapeutic use of hydrogen and its unique properties. A smaller group will also include doctoral students and postdoctoral fellows of research institutes and universities.
The conference is organized by  European Academy for Molecular Hydrogen Research in Biomedicine www.euh2academy.org with Institute for Heart Research, Centre of Experimental Medicine, Slovak Academy of Sciences in collaboration with International Academy of Cardiovascular Sciences, International Society for Adaptive Medicine,  Ministry of Education, Science, Research and Sport of the Slovak Republic, and other institutions in Slovakia.
The meeting will be comprised of and 7 scientific symposia and will focus on pluripotent effect of Molecular Hydrogen on oxidative stress, health, cardio protection, cardio-metabolic diseases, nutrition, molecular genetics, prevention, regeneration, heart failure, ageing, COVID-19 treatment, applied aspects in cardiovascular health care delivery and many other biological effects.
Program and abstract booklet has been displaced on the conference website: www.euh2academy.org
The International Center of Education will broadcast the conference online. You can buy a ticket for the online broadcast at:
https://www.intercedu.com/1st-conference-of-european-academy-for-molecular-hydrogen-research-in-biomedicine-hydrogen-for-biomedicine
Why you should learn from us
Distinguished Professors
and Experts
Symposium
and Conferences